TACS
The Tire Anomaly and Classification System (TACS™) screens commercial vehicles at weigh station facilities to identify those vehicles which are unsafe due to missing or underinflated tires.
Tire anomalies and flat tires decrease directional control, increase the risk of commercial vehicle accidents, reduce tire life, and negatively affect fuel economy. Mismatched and missing tires result in vehicle imbalance, improper load distribution and potential safety issues.
Virtual Weigh Stations
Virtual Weigh Stations (VWS) are weigh-in-motion systems that provide real-time and historical vehicle records for enforcement, traffic surveillance and/or data collection "in real-time" over a computer network connection to a laptop, tablet, mobile device or workstation computer.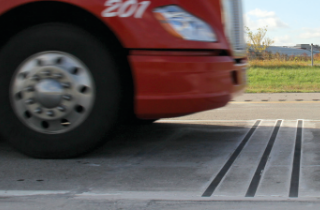 Continuous Calibration
HOW DOES CONTINUOUS CALIBRATION WIM WORK?​
Automatically matches WIM and static scale weight data

​

Calibrates the WIM to minimize the GVW error by vehicle class and speed.

​

Allows study of the WIM against a static reference, both with and without calibration over a

long period of time

​

Comparison of 2 Calibration Regimes:

Initial Calibration Only

Manual method using small set of test trucks with 10 to 50 samples

Continuous Calibration WIM

​

Uses samples from static scale on ongoing basis to adjust the WIM
BENEFITS TO WIM DATA USERS
Reduces WIM average weight error over time, giving high quality data for the long term

​

Continuous calibration is a very effective option when reference scale is available

​

Research is pursuing the extension of this concept to greater distances

​

Continuous WIM calibration keeps the system operating optimally:

​

Monitoring of performance and auditing

​

Provides confidence in the WIM calibration

​

Enhances data quality for the users, both enforcement personnel and transportation

engineers
iROC -
E-Screening
IRD's intelligent Roadside Operations Computer (iROC) enables real-time credential and safety screening:

Credential and safety screening against FMCSA and SAFER databases
Connects with state databases to enabling screening for intrastate vehicles, permit and tax violations
Site-managed hotlists and credential override lists
Allows operators to create referrals for further processing within inspection facilities
Provides a data store for future analysis of commercial vehicle operations using IRD's VI2M™ software
CVSA Decal Reader
IRD's
CVSA Decal Reader
system utilizes Artificial Intelligence (AI) and machine vision technology. AI enables superior read rates of CVSA decals and makes IRD's CVSA decal reader ideal for automated pre-screening of commercial vehicles on the mainline or ramp in advance of weigh stations.
Extremely high read rates for all windshield-applied CVSA decals
Indicates if CVSA decals are expired
May be integrated into WIM preclearance systems to automatically direct commercial vehicles to report or bypass inspections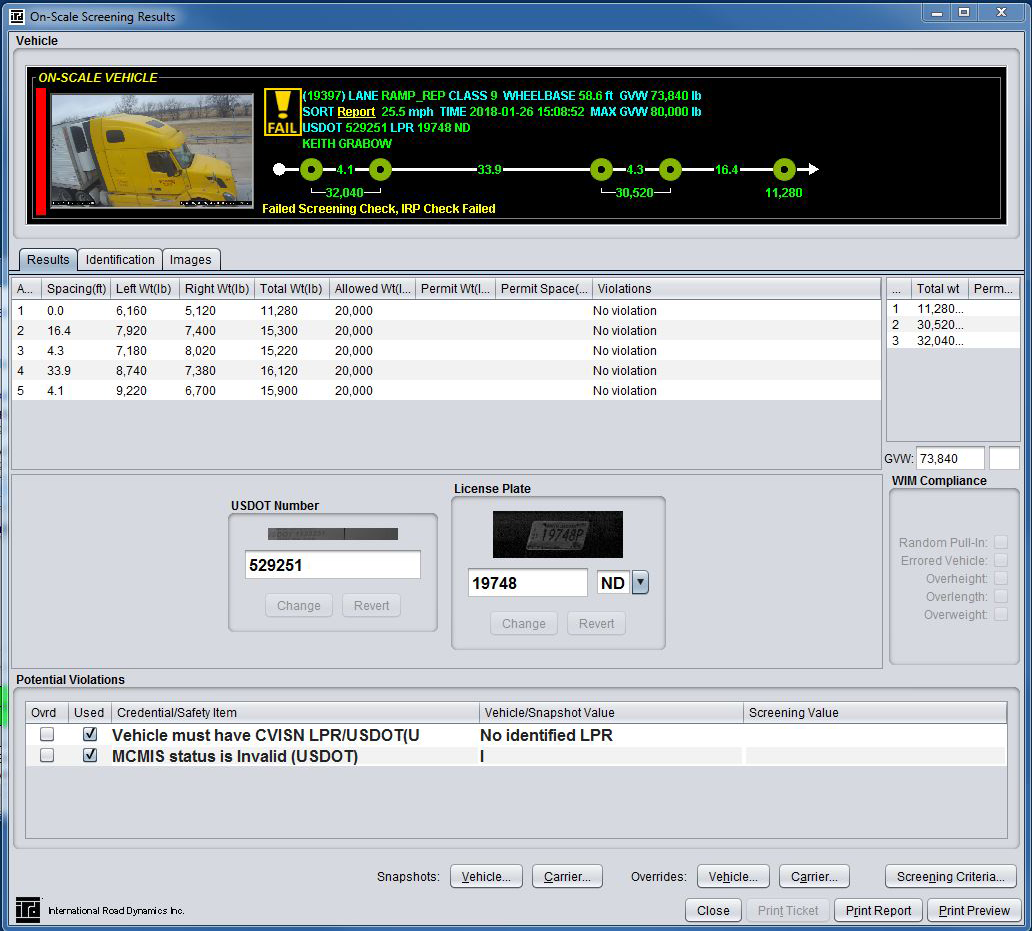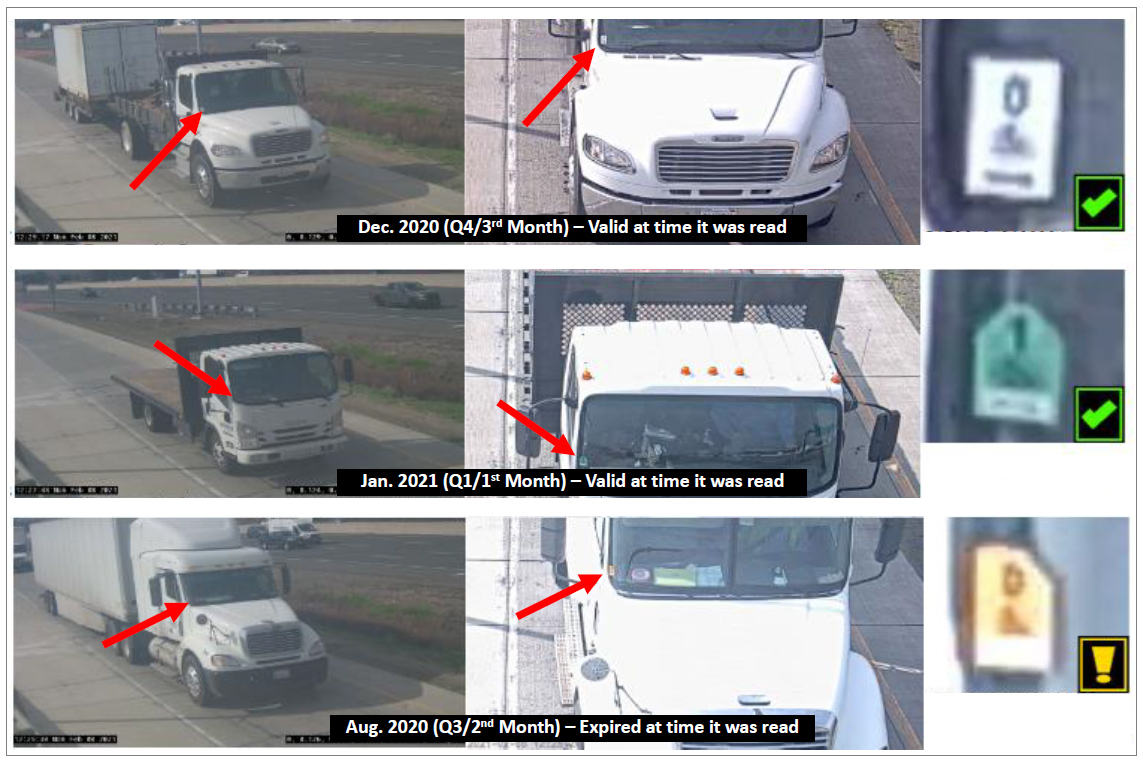 Commercial Vehicle Enforcement/ Operations
Over 2,000 IRD Enforcement Systems Worldwide.

From portable scales to complex multi-lane mainline systems, IRD's Experts will help you with design, supply, integration, installation, maintenance and training for your commercial vehicle enforcement program.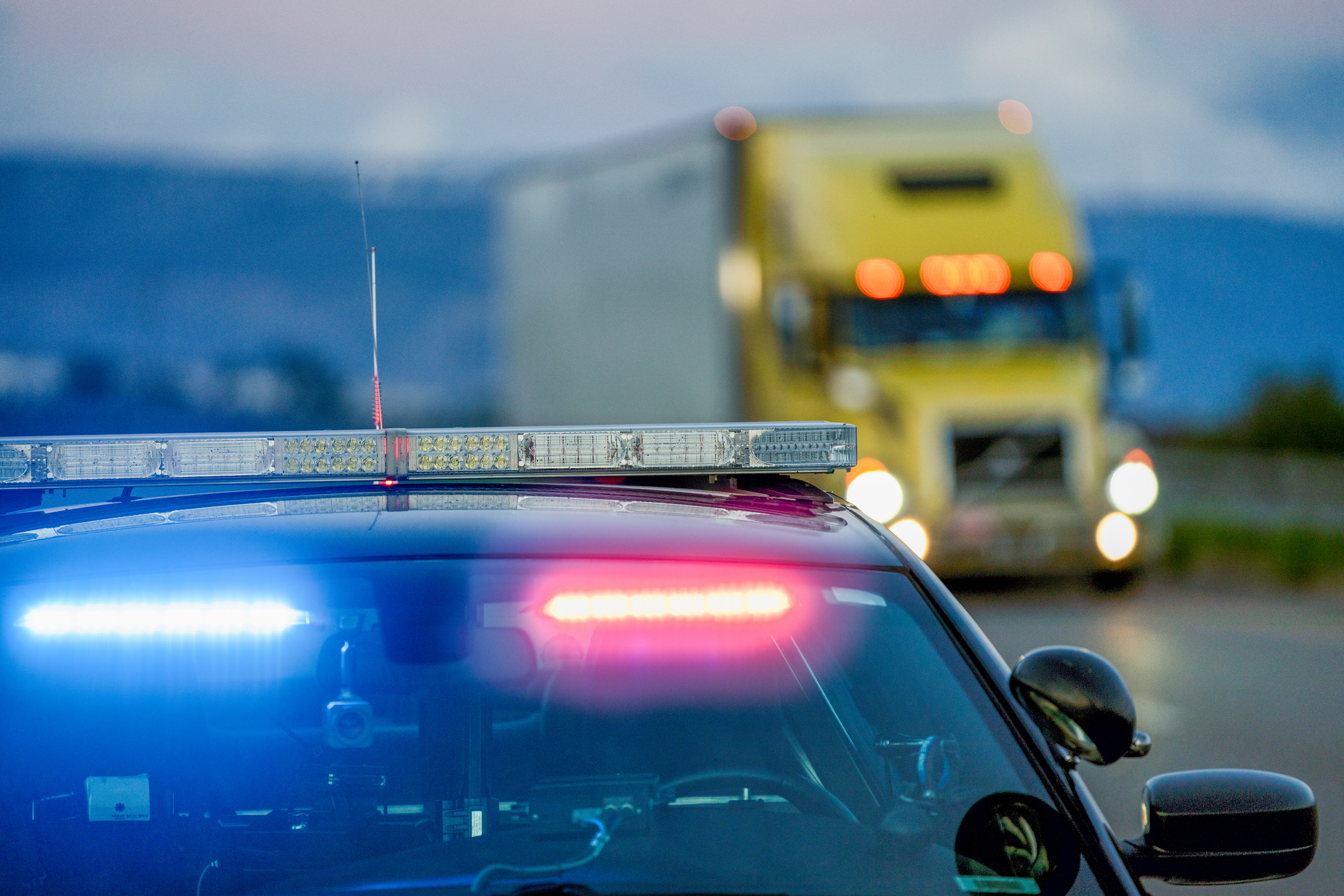 Hazmat
IRD's HAZMAT Placard Reader is based on a high quality, high resolution camera tuned to provide the best possible performance with regards to capture accuracy and automatic HAZMAT reading accuracy. The reader has an engine that is able to perform analysis of all captured images.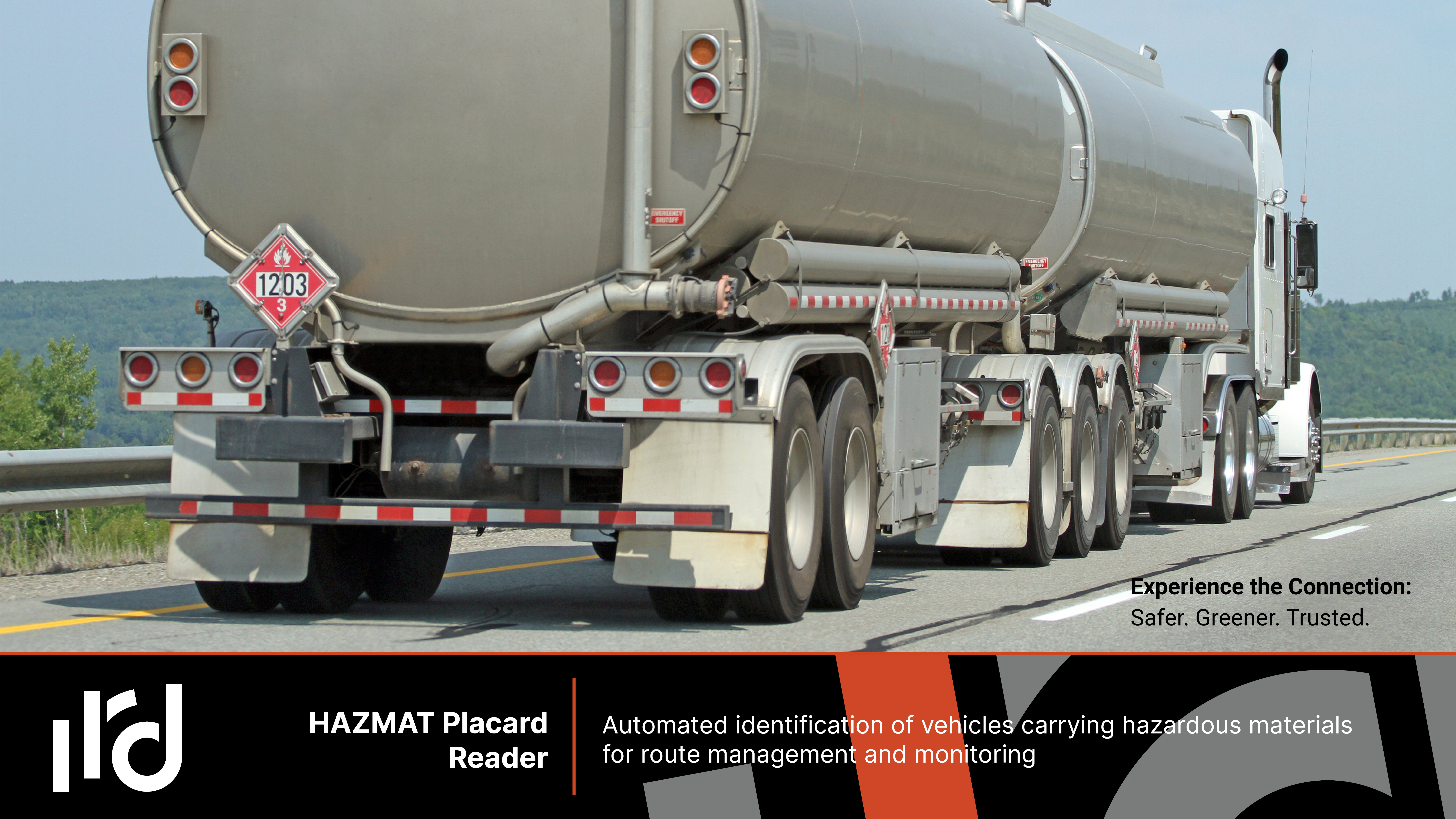 SAW III
The popular, field-proven, and very durable SAW wheel load scale is now available for dynamic weighing. With the SAW's user-friendly software it is possible to efficiently pre-select overloaded trucks. Two SAW scales are paired and connected with a PC via Bluetooth®. The vehicle drives over the scales at slow speed and the weighing result (wheel/axle weights and gross vehicle weight) is displayed on the screen. For weight enforcement with the highest accuracy the system can be switched to static operation mode.
The system guarantees high vehicle throughput, especially when using two sets of SAW scales (one set in dynamic mode for pre-selection and one in static mode for weight enforcement).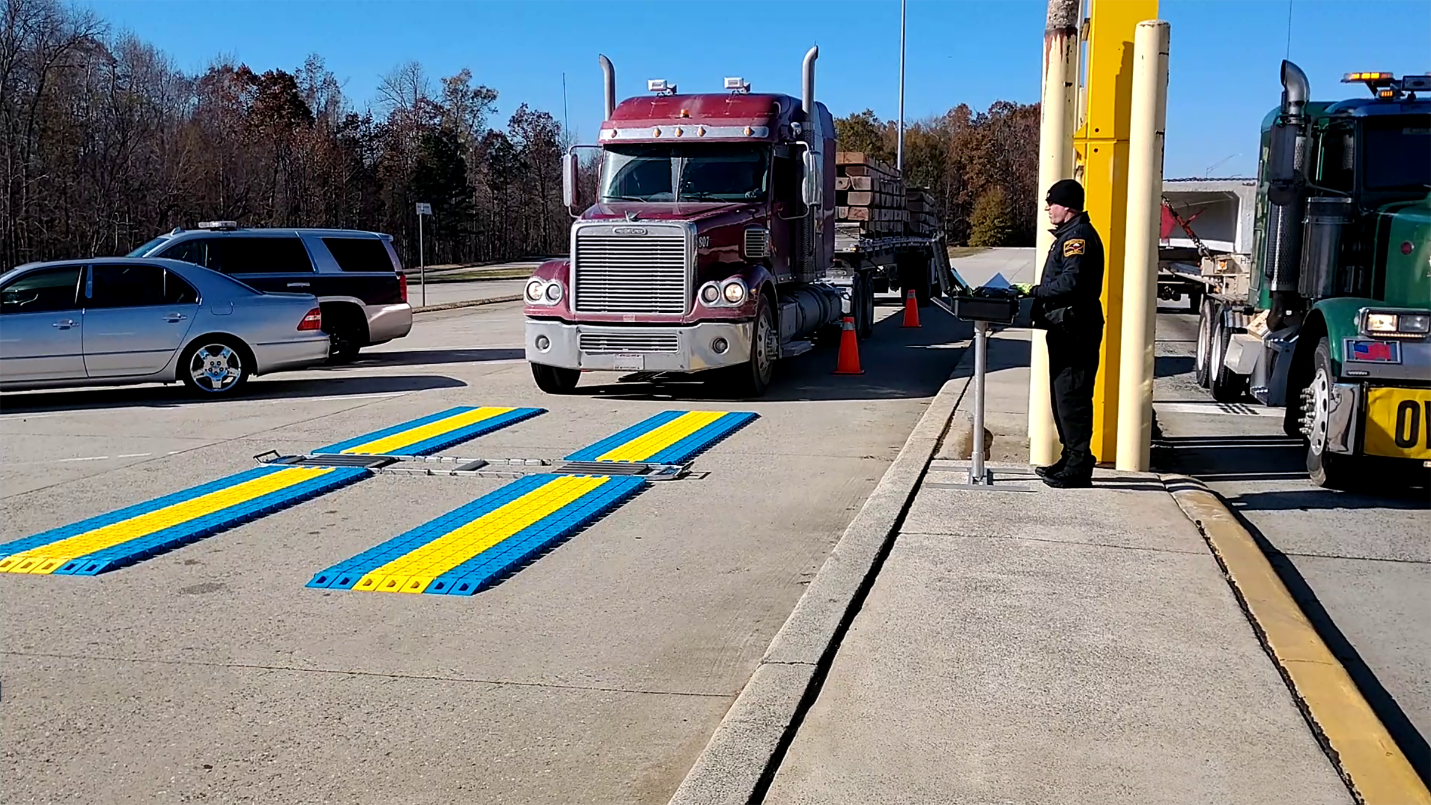 Artificial Intelligence
The iTHEIA™ Artificial Intelligence (AI) traffic data system provides real-time, video-based traffic counting and classifying. This system relies entirely on AI to perform traffic counts right at the roadside, so there is no need to upload video for third-party processing. The system achieves better than 98% accuracy when counting three lanes of traffic. iTHEIA outperforms radar systems when classifying vehicles into 6 size-based classes.